(С) 2000-13 TRUTNEE.COM. Please, provide a valid hyperlink to this page when using the information from our European Laser Tag Directory - according to the CC License: Attribution-Noncommercial-No Derivative Works (please follow the appropriate link at the bottom of this page to get more information about CC Licensing). Any trademarks or copyrights that do not belong to us are used for illustrative purposes under the fair use guidelines and protected by all international law.
Официально подтверждена администрацией арены

приведенная информация официально подтверждена администрацией арены, либо сразу несколькими независимыми источниками; высокая степень достоверности. При наведении курсора мыши на графический символ, всплывает дата получения публикуемой информации. Подтверждение информации происходит не реже, чем раз в 6 месяцев, в противном случае этот маркер не ставится;

Непроверенная информация

Достоверность не гарантируется. Этой же пиктограммой маркируются описания арен, от которых длительное время мы не получаем откликов, либо связь с которыми на данный момент утеряна;

На данный момент арена не работает.
Need to find a laser tag arena for a party, birthday or just for single game? Want to play laser tag on your next trip or vacation? Just wonder what laser tag sites are located nearby? Welcome to European Laser Tag Directory by TRUTNEE!
Our European Laser Tag Directory provides the user with all necessary information about laser tag sites located at the territory of Europe and the countries of the former Soviet Union.
The following data is provided:
LOCATION: The exact address and phone number(s) of the laser tag site.
BRAND: Type of laser tag system operated.
OPENING HOURS.
NUMBER of PACKS (vests, or phasors) available.
Small (but real and actual) IMAGE of the site.
WEB address.
...and other IMPORTANT information!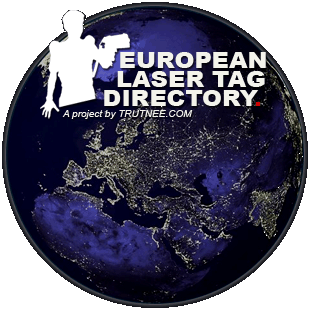 If you have any comments, corrections, or just want to add some new laser tag site(s) not mentioned here, feel free to contact TRUTNEE's administration at trutnee@narod.ru.
All the informational services are for free - both for players and for the site operators (we do NOT charge money for laser tag site's listing).