Need to find a laser tag arena for a party, birthday or just for single game? Want to play laser tag on your next trip or vacation? Just wonder what laser tag sites are located nearby? Welcome to European Laser Tag Directory by TRUTNEE!
Our European Laser Tag Directory provides the user with all necessary information about laser tag sites located at the territory of Europe and the countries of the former Soviet Union.
The following data is provided:
LOCATION: The exact address and phone number(s) of the laser tag site.
BRAND: Type of laser tag system operated.
OPENING HOURS.
NUMBER of PACKS (vests, or phasors) available.
Small (but real and actual) IMAGE of the site.
WEB address.
...and other IMPORTANT information!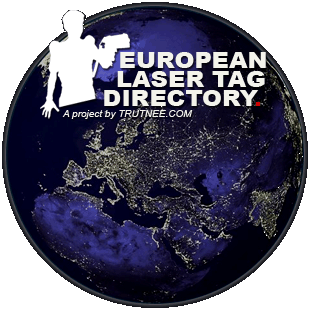 If you have any comments, corrections, or just want to add some new laser tag site(s) not mentioned here, feel free to contact TRUTNEE's administration at trutnee@narod.ru.
All the informational services are for free - both for players and for the site operators (we do NOT charge money for laser tag site's listing).